Designer trends
Classic interior styles.
Interior styles are constantly evolving and becoming ever more popular in 2020. With a multitude of styles and themes from different era's Plank floors have an engineered timber floor to suit modern and classic designs.

Industrial
Industrial interior design has been a growing trend, used in commercial spaces and modern homes globally. This interior theme specialises in displaying and exposing building materials such as metal surfaces, wood, pipes and raw building structures. Featured is the colour Dozie from our European oak collection at Twynam agricultural group office fitout.
Coastal
Coastal interior design has always held a close connection with the beach regardless of location. The aesthetic makeup of this interior style consists of a light colour palette to evoke the feel of summer. Natural fibres and organic materials introduced in this interior style further enhances the look and feel of a coastal presence. Featured is the decor colour Gris from our European oak collection at Coco Republic retail store.

Biophilic
Biophilic interior design has been a popular trend where the focus and intent is to implement natural and raw materials into an interior setting. The intent of introducing nature into an environment is to reduce stress and increase well-being in a workplace, hospitality or retail environment. Featured is the decor colour Roken from our European oak collection at Spaces office fitout.

Country
The classic style and design of country interior design is completely focused on rustic and vintage design elements to create an authentic homely theme. From light to dark tones, adding timber floors to this design style creates additional warmth and invites the outdoor inside. Achieving a modern country style theme does not only consist of the essential design elements, it also consists of the decorative elements to embrace the relaxed feel of the country lifestyle. Featured is the decor colour Gris from our European oak collection at Coco Republic retail store.

Minimalist
Minimalist interior design focuses on simplicity and neutral tones to embrace the style of 'less is more'. Creating this popular look is the simple aesthetic commitment to clean lines, natural light and minimalist room decor. Flooring in a minimalist setting is expressed with natural neutral tones and light wooden finishes to complete the look. Featured is the decor colour Rawma from our European oak collection at Moonee Ponds multi residential project.

---
TONES!
The power of light and dark woodgrain colours.
The LIGHT and DARKNESS in an interior setting brings design elements together to create a style, trend and sense of dimension. Woodgrain tones in a commercial or residential setting bring escapism and sanctuary to your environment. Plank floors have developed a range of woodgrain tones to enlighten and broaden designers' imagination. The natural characteristics of wood bring to life the beauty of nature and the ability to design and bring these elements into an interior.
Light Woodgrains
Light in an interior setting helps to redefine dimension and space, despite the interior size. In a commercial environment light woodgrains in a high traffic area, enhance the sensation of space and balance in a room. Knowing tones for your design helps to choose principle elements and techniques in order to create and deliver for your client. Seen below are commercial and multi-residential projects showcasing Plank floors European oak range.
Office fitout: Spaces, The Wentworth
Project: Spaces
Location: Perth
Designer & Builder: Intermain
Plank floors: European Oak range "Roken"
Hospitality setting: Lexus Design Pavilion
Project: Lexus Design Pavilion
Location: Melbourne
Designer: The big group creative
Plank floors: European Oak range "Elmo"
Dark Woodgrains
Dark woodgrains hold a level of warmth and luxury in any interior setting. With any natural product, the inconsistency of elements such as knots and grains in a woodgrain encompasses the level of drama and sophistication to a commercial or residential environment.
The creation of balance in interior design is always inspired when Plank floors are used coupled with the right colour palette, there is always a versatile and rich ambiance to the interior when designers use dark or light tones from our range.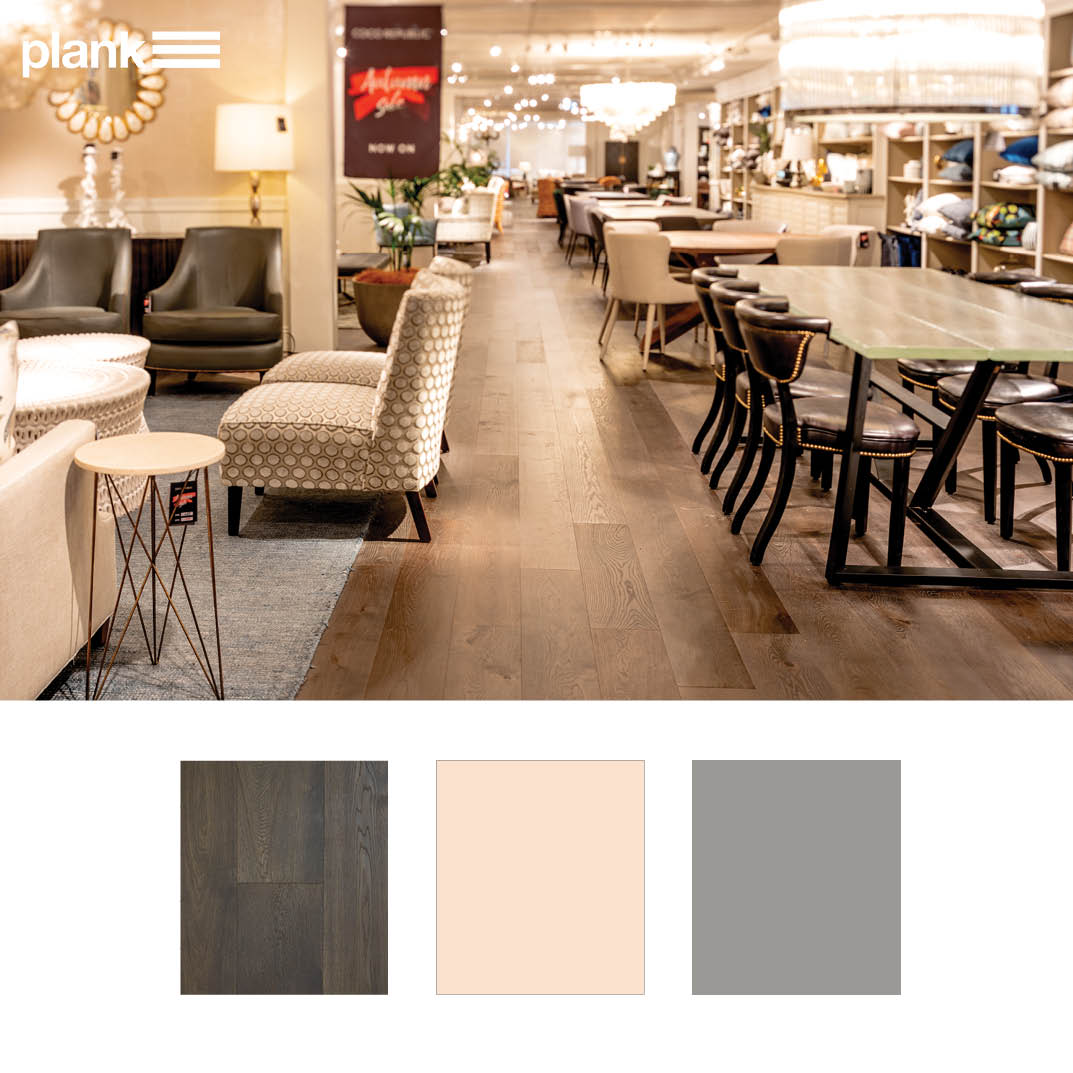 Retail: Coco Republic
Project: Coco Republic
Location: Sydney
Designer: Coco Republic
Plank floors: European Oak range "Gris"
Multi-Residential: Hampton, Rose Bay Apartments
Project: Lords Group
Location: Sydney
Developer: Moshav
Architects: CSA Architects
Plank floors: European Oak range "Delft"
---
PARQUETRY
The next level of flooring trends is back!
Parquetry brings the elements of texture and pattern to any interior. Whether it be a commercial or residential space, its light and shadow characteristics create a bold feature with our bespoke designs. The applications are endless and can be installed on floors, walls or ceilings. Your design scope is limitless. 
Chevron
The distinctive look of a chevron pattern is clean, smooth and angular. A striking visual design with a 45 degree angle creates rare moods and impressive scenes. 
Scattered
Scattered parquetry brings the elegance of custom crafted floors into any space. The beauty and innovation of Plank parquet floors make any room uniquely refined.
Herringbone
A timeless classic, Herringbone parquetry floors are cut in rectangles that are laid in a zigzag pattern. This show-stopping design is at the forefront of today's trends and making an ageless statement.